Clay Johnson OUT of Chariho School Committee, per RI Supreme Court Ruling

Updated July 18, 2023
The Supreme Court of Rhode Island ruled this morning that the local Richmond Town Charter carried more weight than State Law and the Chariho Act), as both laws were judged to be conflicting in nature.
By virtue of the SCORI ruling, the plaintiff, Jess Purcell, the prior election's next highest vote getter will be seated on the Chariho School Committee, while Clay Johnson, who had been seated since February after his appointment by the Richmond Town Council, will be out.
PROGRAMMING NOTE: Larisa and Johnson's exclusive interview on In The Dugout with Mike Stenhouse, can be viewed after 4pm on July 18 at: oceanstatecurrent.com/in-the-dugout-july-18-2023/ .
In a statement provided to the media, Joe Larisa, attorney for Clay Johnson, said:
"Former Chief Justice Weisberger used to remind parties on the losing side that "Supreme Court opinions are not final because they are right.  They are right because they are final."  Although the Court agreed with the Town and against Purcell 5-0 that the Charter and the Chariho Act were inconsistent, the majority nonetheless ruled in an 18 page opinion that the Charter provision mandating the appointment of Purcell prevailed over State law.  We believe that the 38 page dissent by Justice Goldberg detailing how the Richmond Town Council acted well within its rights in appointing Johnson was the better Opinion.  The majority, however, disagreed, and its view is final."
****
Prior coverage … 
Counter Lawsuit Filed as Clay Johnson Fights to Keep His School Committee Seat
NOTE: This rapidly developing story was updated again on January 25th.
Clay Johnson has now filed counter legal action – an Emergency Quo Warranto Petition (click here to view) – with the RI Supreme Court, asserting he is the rightfully appointed member to the vacant seat on the regional Chariho School Committee.
Johnson, his controversial appointment, and the un-authorized actions of the school committee's solicitor, Jon Andersson, were the main topic of debate at last evening's school committee meeting, prior to the committee turning its attention to the school budget, which can be viewed here.
PROGRAMMING NOTE: Clay John will be the exclusive guest of Mike Stenhouse today on his In The Dugout video podcast, along with other meeting attendees (LOUISE DINSMORE and PASTOR DAVID STALL), which can be viewed live at 4:00PM or after the fact at by clicking here.
****
NOTE: This story was updated on January 24th.
WATCH: Sten's highly watched Jan 23rd In The Dugout interview (click here) with local citizens, Louise Dinsmore and ex school committee member, Pastor David Stall, who bring compelling views to this story.
Breaking … a quo warranto lawsuit was filed yesterday in RI's Supreme Court by one of the losing candidates in the recent Chariho regional school committee elections from the town of Richmond. A well-known left-leaning progressive, Jessica Purcell claims that she, as the next highest vote-getter, should have been automatically appointed to the recently vacated seat, instead of Clay Johnson, a conservative who was appointed last week by the Richmond town council, and subsequently sworn in.
At legal issue, is an apparent conflict between the school district act and the town charter about how vacant school committee seats should be filled.
The lawsuit asks for an "expedited briefing" and does not request an immediate injunction, meaning it is likely that Johnson will be seated at this evening's school committee meeting. Whether or not the left-leaning committee chair will recognize Johnson and allow him to vote, remains an open question, but according to our legal sources, any action by the state's Supreme Court could take days or weeks.
Clay Johnson issued the following statement today to The Current: "Ms. Purcell was the losing candidate on November 8. She was the losing candidate for the appointment. I'm sure she is fighting this hard because she knows the stakes involved. From my point of view, a school system should not be a replacement for a family, and school values should not displace family values. As one vote on the school committee, my concerns could be politely ignored. With more members concerned about the direction of the curriculum, there will be a real debate."
For more details, see below. Check back on this webpage for further updates on this story.
***
NOTE: This story was updated on January 22. The high drama continues, when, as expected, left-wing school committee members and its solicitor, John Anderson, will not let go of their hold on power over the school district after the town council appointed conservative, Clay Johnson, to fill a vacant seat, leading to a 6-6 balanced membership.
Just hours after Johnson's swearing-in last Friday, Anderson made his legal play, which has been officially placed on Tuesday's school committee meeting.
***
Clay Johnson was sworn-in to the regional Chariho school committee by state Senator Elaine Morgan today at 10:00 AM this morning at the Richmond town hall. But not without controversy; and under threat of a lawsuit by the district's own school committee.
Despite legal maneuverings to circumvent state law and despite efforts by left-leaning advocates in support of a liberal nominee to fill a vacant elected seat from the town of Richmond to serve on the Chariho regional school committee, conservative activist, Clay Johnson, was appointed to fill the seat, vacated by Gary Liguori shortly after the 2022 elections.
With the balance of power at stake for the Chariho School Committee, estimated before last night to be comprised of six left-leaning members and five right-leaning members, the Richmond Town Council, in the end, was judged to hold the legal authority to make the appointment, at its discretion and vote.
Rescheduled from Tuesday because too many people attending created a fire hazard, the Thursday evening Town Council Meeting, which was moved to the larger Chariho Middle School auditorium, was packed with over 100 people, with three police offices on hand. While the meeting was spirited and raucous at times, police intervention was not required.
As described below, there was significant legal dispute over how the seat should be filled – either at the sole discretion of the Town Council (per the state law Chariho Act) or by automatic appointment of the next-highest vote getter, Jess Purcell, from the most recent election (per the Richmond Town Charter). In the end state law prevailed … however not without drama from multiple legal sources.
Initially, town solicitor, Karen Ellsworth, publicly made the argument that state law should prevail. Some sources claim that after political and legal pressure by left-wing activists and by the School Committee solicitor, Jon Anderson, that Ellsworth, behind the scenes, switched her argument in an attempt to sway town council members to support the town charter provision. The Current cannot confirm these claims.
However, in the end, Ellsworth provided the Richmond Town Council with citings from prior cases and concluded "Therefore, my opinion is that the provision for filing vacant School Committee seats in the Chariho Act supersedes the provisions for filling vacant School Committee seats in the Richmond Home Rhode charter and that when the town council appoints a new school committee member to fill the vacant seat for the remainder of the unexpired term, the town council is not required to appoint the unelected candidate who received the greatest number of votes for that office in the November 8, 2022 election."
Enter Judge Robert Flanders, former Associate Justice of the Rhode Island Supreme Court, and board member of the RI Center for Freedom & Prosperity, who, via an email that was shared with the town council members, issued his own erudite opinion that state law should take precedence in this matter, as originally recommended by Ellsworth.
After Jess Purcell was nominated to fill the seat, followed by lengthy supporting testimony by various attendees from the public, a majority of the Town Council apparently decided to follow Flanders' recommendation to adhere to state law, and voted 2-3 to defeat her appointment.
Next, without any prior notice, Clay Johnson was nominated by a Town Council member, and the motion was seconded. Immediately, the left-leaning crowd broke into moans and groans, with Johnson's character repeatedly assailed, as was the Parents United RI movement, of which Johnson is a close ally, as well as The Gaspee Project, of which Johnson is chairman.
Clay Johnson, an avid parental rights advocate, also previously served on the Chariho school committee (2017-2020) and has successfully led multiple grassroots local voting campaigns to defeat bloated school district budgets.
In support of Johnson, Louise Dinsmore, former chair of the town GOP, spoke strongly and eloquently to counter the attacks from the left.
Additionally, a member of the public claimed there was an Open Meetings Act violation because Johnson's name was not listed on the official agenda for the meeting, as was Purcell's. But even town solicitor Ellsworth had to make the proper legal ruling that in such an open appointment situation, any name could be put forth.
As a final and desperate attempt to deny Johnson's appointment, it was proposed that no decision should be made at the meeting, with a call for applications to be submitted and considered, with a vote to take place in a few weeks. However, Clay Johnson's nomination had already been made and seconded, meaning that a vote on the question must be taken. Johnson's appointment was approved by a 3-2 vote. Throughout his nomination, Johnson, who was on hand, did not speak.
Today, Johnson provided this quote to The Current: "We can have an exceptional school district and be respectful of the taxpayers ability to pay. The district has taken the taxpayer for granted for too long. With a school committee that is now balanced we will chart a new path."
The Town Council members voting in support of Johnson and against Purcell, were Helen Sheehan (R), Mike Colasante (R), and Mark Trimmer (R, President). Rich Nassaney (R) and Samantha Wilcox (D) voted against Johnson and for Purcell.
But the legal controversies may not yet be over as school committee solicitor, John Anderson, in a letter to the town council earlier in the week, said the the school committee will not allow anyone but Jess Purcell to be seated … and is threatening a lawsuit. Perhaps this is why today's swearing-in for Johnson was so hastily arranged, in order to avoid some kind of legal stay?
Johnson looks forward to next Tuesday's school committee meeting, but with some apprehension, as he is not sure what, if any, ploy the left-leaning members and  it lawyer may try to pull.
With the Chariho school committee apparently now at a balanced 6-6 conservative vs liberal leaning members, a dramatic power-shift could be underway in the school district. Johnson, who spoke with The Current earlier this morning, said that "it's full steam ahead" to try to implement much needed reforms, including a responsible school budget that will lower taxes for town residents. He also indicated that after the budget season is over later this spring, he and his allies on the school committee will take up the issue of the divisive teachings and intrusions that are being imposed on students and their families.
****
For more of the backstory of this contentious school committee seat appointment, we provide below the recent Twitter posts of Laurie Gaddis-Barrett, parent activist and leader of the Parents United RI movement in Rhode Island, "at issue is a potential conflict between state law and local charter about how the vacancy will be filled. The Chair of the Chariho School Committee has been all over social media supporting one Jess Purcell, who thought she had it in the bag,," who was the next highest vote getter in the recent election.
Gaddis-Barrett continued her chronicling of the controversy by writing that the "Town Solicitor (Karen Ellsworth) opined that state law superseded local charter, and Town Council could basically do what they wanted. And THEN, hysteria began to take over the Richmond RI Democrats. Next…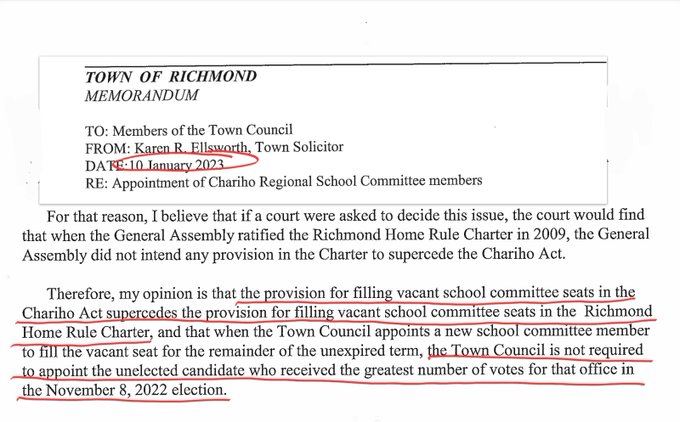 Emails begin to fly, Chair of Chariho SC begins social media support campaign and references in particular an email from Mark Reynolds, who benefits from billable hours from Chariho. He also happens to be hubs of current Chariho SC member Karen Reynolds.
Potential conflict of interest between Reynolds' making bank and submitting a legal opinion without any, you know, legal analysis is pointed out. This is where Jon Anderson enters the chat. His prose is next tweet.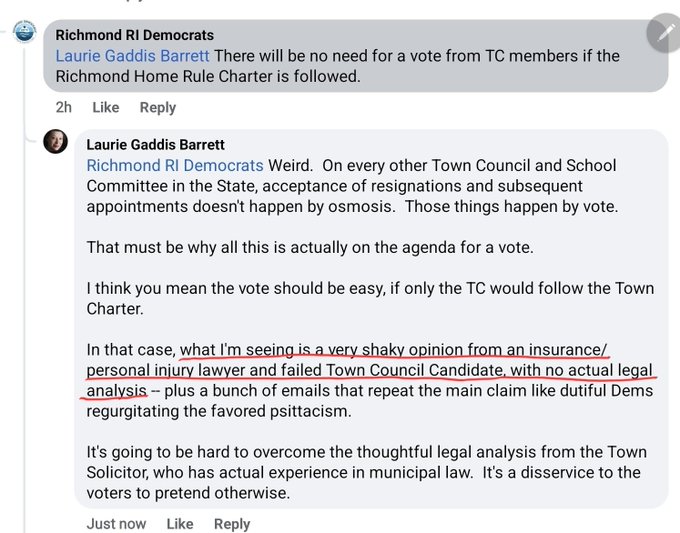 Somehow, Jon Anderson got the idea to render his own legal opinion, & upped the ante with a threat. Unless the Town Council appoints the Chariho SC Chair's fave candidate, he'll advise Chariho to nullify everything – during Budget season – & what makes this an empty jug is…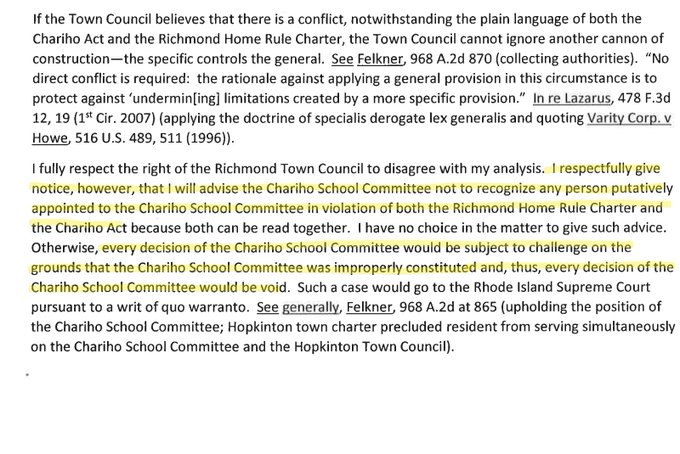 Chariho is under severe budget strain. They can't keep what they have without a 6.6% increase. So, who's going to vote to sue? Chariho can't afford to sue, even if they had standing (they don't). Who asked Jon Anderson, anyway? Mystery…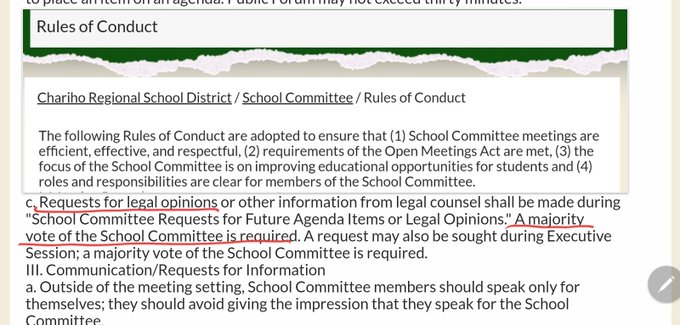 Chariho minutes show no vote to have Jon Anderson opine on anything, let alone threaten court. Did Jon Anderson go rogue? Is something more nefarious afoot? How much is he charging to bully the RTC w/ an opinion that doesn't matter, publicly asked for by no one?
#StayTuned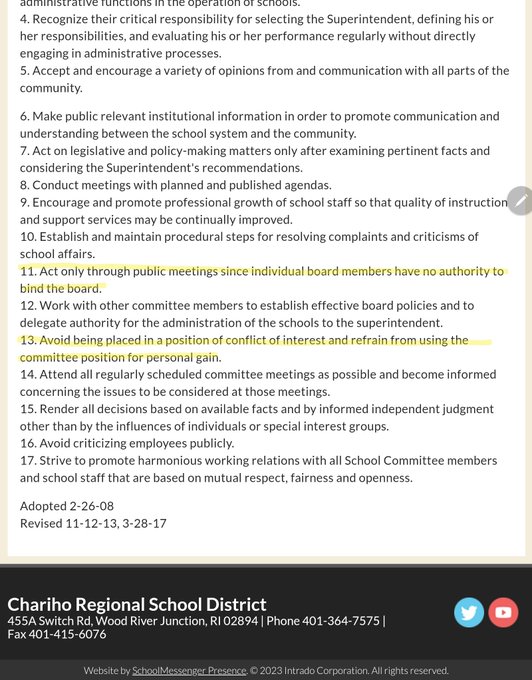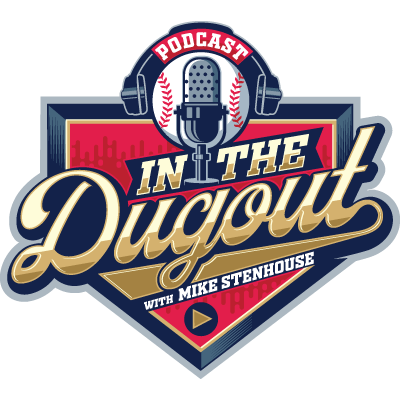 https://oceanstatecurrent.com/wp-content/uploads/2023/01/tingey-injury-law-firm-L4YGuSg0fxs-unsplash-scaled-e1674569711344.jpg
1331
1689
Current Staff
https://oceanstatecurrent.com/wp-content/uploads/2021/10/logo_white_300x56.png
Current Staff
2023-07-18 12:12:29
2023-07-19 07:04:29
Clay Johnson OUT of Chariho School Committee, per RI Supreme Court Ruling